TICKET RELEASE: 1ST OF NOVEMBER 18.00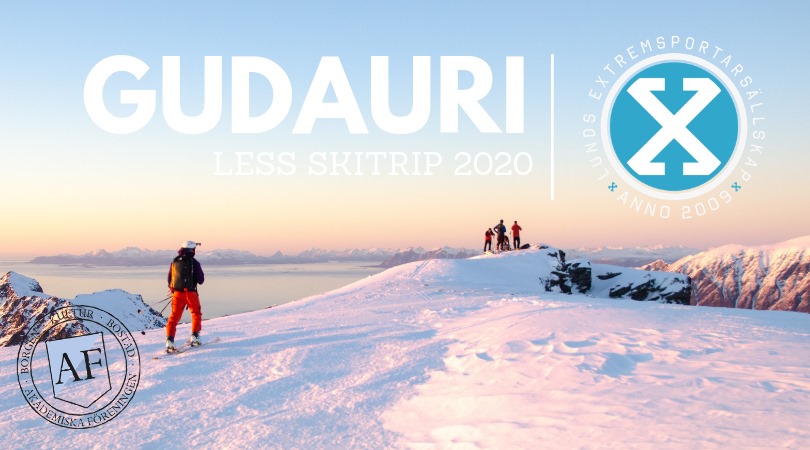 – LESS members will be prioritised and the link will be posted in the members only group before it is released here in the event afterwards.
*drumroll please* …. This year LESS will go to Gudauri in Georgia! LESS was there in 2017 and had a blast, so there is a lot to look forward to! Below is all the information you will need at the moment and some suggested travel.
WHY GO WITH LESS?
So – why should you go with us and not any other organisation? Well, our focus is skiing and skiing and more skiing. Of course, the occasional party will slip in but in general we aim to go to more unique destinations and explore the mountains to the max. If you're an avid ski tourer and want to find some good freeride opportunities this is perfect or if you are quite new to skiing and want to learn as much as possible during a week.
THE TRIP
LESS will book and fix the accommodation, transfer to and from Tbilisi and lift-passes and that is what is included in the price. Above that you book your own flights (we have some suggestions below) and pay for all your personal expenses (food and possibly ski rental). Apart from the practical stuff the trip will be super fun – not only during but before. We aim to have at least a few meet-ups before with everyone who signs up so that we can get to know each other beforehand, and during the week we want to have some fun happenings outside the skiing as well (for example TDC in our apartments, sauna night and so on).
THE RESORT
Gudauri has been described as a "light version of Iran" by many freeskiers. The resort is located in the greater Caucasus mountain range in Georgia at an elevation of 2200 meters. It's on a south-facing plateau and offers skiing from 1990 m up to 3279 m and the highest lift reaches as far up as 3000 meters. It is a snow secure resort and usually offers a snow-depth between 1.5 and 2 m during the winter! It lies 120 km (two hours drive) from the capital Tbilisi.
Even though the skipass is very cheap compared to prices in the alps the lifts are supposed to be modern and up to date. This year a six-chair lift will be finished. Gudauri is a small ski resort with its 57 km of ski runs and 7 lifts (6 chair lifts, 1 gondola). All runs are above the treeline, so no forest jibbing, but a whole lot of mountain to ride in exchange. In other words Gudauri offers a whole lot of sweet off-piste skiing. There's the possibility of hiring a guide for the first days to find out more about the hiking opportunities and avalanche risks, which seems to be well worth it.
ACCOMODATION
We will stay at Gogo Apartments in apartments that range from 4-8 people. There will be kitchens and all the stuff that apartments usually have. And when you sign up you get the possibility to tell us who you want to live with!
TRAVEL
You are responsible to book your own flights to Tbilisi and we have a suggestion of good ones to take – the most important factor is that you will make the transfer bus to Gudauri (it is 2,5 h away) and we will have a time for that shortly! But it will be late afternoon at least.
Our suggestion for flights:
18th of January with Turkish Airlines
06.50 from Copenhagen to Istanbul with TK1788 arrival 12.10
– 1.40 h waiting in Istanbul –
13.50 from Istanbul to Tbilisi with TK382 arrival 17.10
25th of January (also Turkish Airlines)
18.05 from Tbilisi to Istanbul with TK383 arrival 19.45
– 1.35 h waiting in Istanbul –
21.20 from Istanbul to Copenhagen with TK1787 arrival 22.45
Remember to book extra ski luggage if you need it!! Might be expensive to forget.
PRICE
The price for this trip will be 3700 SEK and that is including accommodation, transfer to and from Tbilisi and lift pass for 6 days.
When you sign up you will pay a deposit of 1800 SEK that is non-refundable and then you will have to pay the rest before December 10th. More info about payment will come when the tickets are out!
ADDITIONAL INFORMATION
Ski rental is available in Gudauri and you can look it up at these sites – it might be worth looking at booking ahead as we don't know how many skiis they have etc.
https://www.gudauri.info/prokat/
http://wildguru.com/en/rent-2/
If you are a good skier already and want to go touring and freeriding, we urge you only to do so if you have the proper equipment for it – avalanches are a serious thing even in Georgia.
Make sure that your insurance covers skiing and travelling and if you are aiming to to a lot of off-piste and freeriding – make sure the insurance covers that as well!
LESS is not responsible for you on the mountain, you are and we hope that everyone has relative insight into their own ability and knowledge level.
We are looking into having guides and instructors at different levels for those interested and more info will come about that as well!
WE ARE SUUUUUUPER STOKED ABOUT THIS TRIP – HOPE TO SEE YOU!
If you have any questions message LESS on our fb page or send us an email!